BiRadio Internet Radio Player
We have established an internet radio portal in Hong Kong, User can access this portal via web browser, internet radio software, HKV Android app and PC-free internet device. BiRadio internet radio is a freeware running on PC which has on-line search feature and support chinese stations information display, user can download free and use to evaluate our radio portal.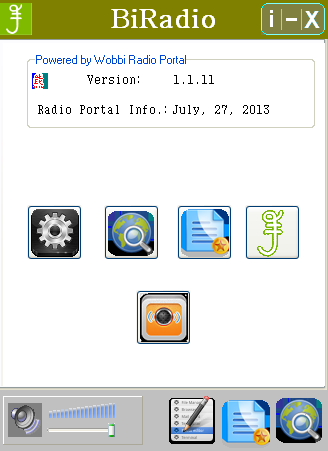 Feature
BiRadio is freeware as an internet radio player, it supports on-line search function, powered by Wobbi Portal(there are over 3000 radio stations data at present time), user can manage one's own favorite station list too.

Support audio format:
SHOUTcast, Icecast MP3/AAC
RTSP/Web WMA

Support OS:
Windows 2000
Windows XP
Windows Vista
Windows 7




My favorite radio stations as:
SKY.FM radio: Classical Guitar
Apple-FM World
MJ Radio-Michael Jackson Radio
DigitalRadioHK.net
HKGFM.net
181.FM
RTHK
D100
BBC
VOA
ABC
---
Download
BiRadio documents and software download
Just download and unzip to a folder, run "BiRadio_setup.exe" to install the software, it supports both English and Chinese version at present. We have preset over 50 stations in Favorite list, user can delete or add new station so as to make a favorite station list. BiRadio supports almost all radio stations in Hong Kong, no matter they are on-air on internet only.